Recognition & Achievements
The Associates of The Bridge Consultancy are professionally qualified, are members of professional organisations and practise subject to their Codes of Ethics and Practice.
Those organisations include: The British Association for Counselling & Psychotherapy (BACP); The Association of Counselling at Work (ACW);  The Chartered Institute of Personnel and Development (CIPD);  The Association of Christian Counsellors (ACC);  The Education & Training Foundation (EFT);  The Career Development Institute (CDI);  The Chartered Management Institute (CMI).      The Bridge Consultancy has achieved high levels of recognition it its delivery of  Information Advice & Guidance (IAG) in Corporate and Community settings, where all its functions and processes achieved high commendation – from effective leadership, successful partnership working, outstanding client delivery / feedback to its excellent underpinning Quality Assurance and CQI systems.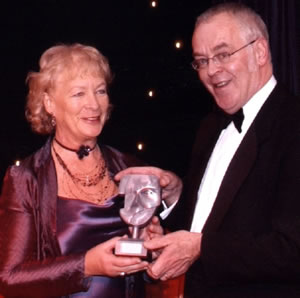 Mary Barker (Principal), being presented with the Chamber of Commerce Business Award for: Excellence Award for Best Small Business, sponsored by Lloyds TSB.
Examples of comments from just two of our major Clients:
 "Thank you so much with your sensitive and professional support helping us with a very tricky situation.  Your work with the team and the individuals and the results achieved has been terrific!"

"………….. The (Bridge) Consultancy has provided a first-rate service.  The Consultancy has demonstrated proven expertise, with you and your team successfully supporting people and delivering the services throughout a wide range of sometimes challenging commercial / community settings ……………….

Over the years there have been many developments in the Delivery Specification – The Bridge and its team has always responded flexibly and resourcefully, and promptly met or exceeded all new requirements…………….  Your record for achieving positive outcomes is exemplary………..

The Bridge team, under your leadership, has successfully worked innovatively in partnership with a number of organisations. The Consultancy is held in high esteem with regard to its integrity, the quality of its work undertaken and the excellent relationships fostered.  ………. We look forward to working with you again in the future."
Just one example of a typical feedback response from of our Counselling clients:
"I cannot speak highly enough of the support I have received from you.  I was really stuck and struggling but, with your understanding and help I have found a way forward, with a great weight lifted from my life. I can now move forward and once more enjoying my family and friends.  Thank you."